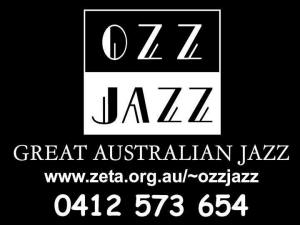 Ozz Jazz plays music from the several eras starting with Ragtime from the early 1900's, through Dixieland (Louis Armstrong style) and Swing (Big Band Era). The band has a repertoire of over 700 songs which covers all the well known standards such as "Sweet Georgia Brown", "Alexanders Ragtime Band", "When the Saints", "Basin St Blues"etc. We also perform rare "comedy" style songs from the 1920's such as "How could Little Red Riding Hood have been so very good and still keep the wolf from the door"!

We also play our own original jazz songs including the award winning "My House, My Dog and you".
Ozz Jazz uses many size groups and lineups depending on your budget, tastes or needs. We start with a very popular trio that is portable (roving) and is great for backyard parties, promotional events and shopping centres. We can add any number or combination of instruments to suit the budget and style of your function.