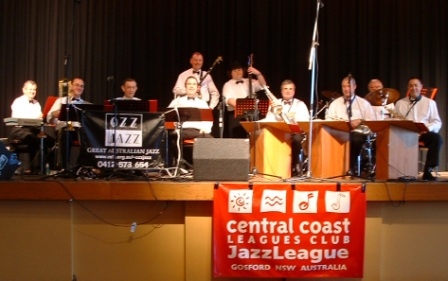 The Roaring 20's Big Band is a ten piece band that faithfully reproduces music from the golden age of the 1920's and early 1930's including:-

Duke Ellington, Louis Armstrong, Fletcher Henderson, Cole Porter, George Gershwin etc.

The band had its world premier at the Central Coast Jazz League, Gosford NSW. The 10 piece band consisted of:

Greg Englert - Trumpet

Ian Baker - Trombone

Mark Pinner - Lead Alto and Clarinet

Simon Bayly - 2nd Alto and Clarinet

Mal Quine - Tenor and Clarinet

Neville Byrnes - Piano

Cliff Parsons - Banjo

Richard Frost - Bass

Tony Rea - Drums.

Most importantly the band featured Ross McKinlay who is one of Australia's most respected Trumpet performers and teachers.

Greg announced that this concert was one of the most special of his life as he finally managed to get Ross to perform as a member of one of his bands. Ross taught Greg from the age of 8 and still remains his musical 'mentor and father'. The Band performed to a full house and received a huge response from the audience."

THE BAND IS READY TO LOOK AFTER YOUR CORPORATE FUNCTION!

LISTEN TO THE BAND RECORDED LIVE PLAYING OUR HIT SONG 'BAD GIRL'
WATCH THE BAND DEMO VIDEO!
LISTEN TO THE BAND AUDIO/VIDEO DEMO!